ELECTRICAL SYSTEM PROTECTION
Electrical Management System – 50A
Electrical Management System – 30A
Iron Forge Cable 25' Extension Cord
Iron Forge Cable 50' Extension Cord
Hughes Autoformer 50A EMS
Hughes Autoformer 30A EMS
25′ food grade water hose
50′ food grade water hose
Clear2o Dirtguard Sediment Pre-Filter (RV Water Filter)
Clear2o Universal Advanced Premium Carbon Filter (Whole House & RV)
Unique RV Digest-It Black Holding Tank Treatment
Unique RV Toilet Bowl Cleaner
Unique Tank Cleaner Liquid
Unique Sensor Cleaner Liquid
Valterra Viper 15' sewer hose kit
Valterra Viper 20' sewer hose kit
Inline Water Pressure Regulator
Venom Steel Premium Black Nitrile Gloves (50 pack)
Duraflex 20' DUAFLEX Sewer Hose Kit
3-in-1 flexible sewer hose seal
Suburban water heater – aluminum anode rod
Heavy Duty Leveling Blocks
Andersen Hitches Camper Leveling Blocks / Storage Bag
Craftsman Home Tool Kit (57 pieces) traps (set of 4)
Dual Head Air Pressure Gauge
Rachet Straps Tie-Down Kit (4)
Bungee Cords with Carabiners
MaxxAir exterior vent cover
Fan-Tastic exterior vent cover
Extension cord holder with handles
Clam quick set 6 sided gazebo
Collapsible Bowl/Strainer Set
Nesting Mixing Bowls with Lids
Nesting Mixing Bowls, Measuring Cups, Sieve, Colander
Kitchen Towels (set of 4)
LED Headlamp (rechargable)
Garmin RV 785 (with camera)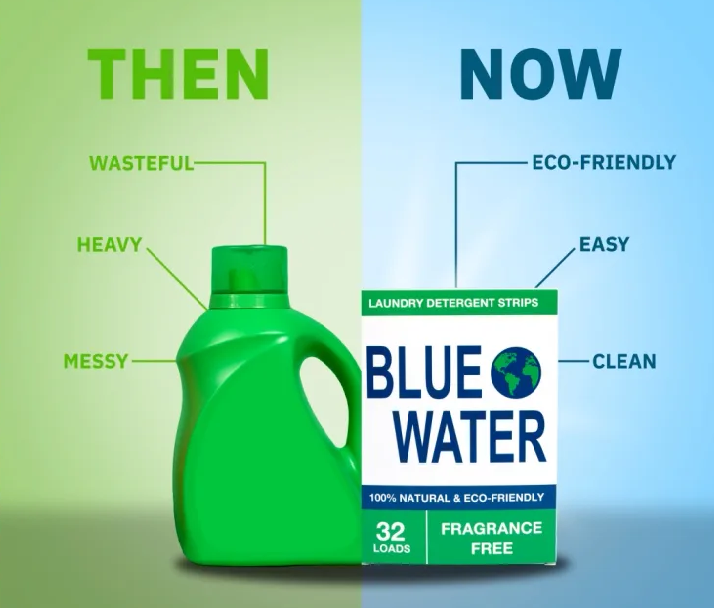 It is so nice to not have to carry the big heavy jug of detergent to the laundromat or find a place to store it in the RV. The laundry detergent strips are biodegradable and work with both septic and graywater systems, making them perfect for RVers to use!
Blue Water offers a number of scents, none of which are overwhelming. They do not leave a perfume-y smell on your laundry. We appreciate that Blue Water gives back to the community, donating 20 loads of detergent for every subscription order.
(We direct our donations to animal or veterans community projects.)
Blue Water stands behind their products with a 100% money-back guarantee. Shipping is free and your order arrives within 2-4 days.
Please use our code GWYNNE89398 to save 20% on your order at Blue Water.
This page contains affiliate links. An affiliate link means we may earn advertising/referral fees if you make a purchase through our links, without any extra cost to you. This helps us keep the headlights on and the fuel tank filled.
PS – we only recommend products, services and agencies that we have experience with ourselves.